Lambeth & Southwark Mind's Information Service Assitant Kelly Boughtflower took on the mammoth task of organising a stall with rota at this year's Lambeth Country Show. "We haven't been present there for many years and it was long overdue," she says.
"As a Lambeth resident, born and raised, I know how this event is such a huge party for the Lambeth Community and as it was their 40th anniversary, it was even more important… We do great work and by raising the profiles of our charity and hopefully our funds, we will be able to achieve and offer so much more going forward." 
Kelly praised the support of Co Interim Directors Jolie Goodman and Earl Pennycooke, Trustee Mark Bertram, Gloria Gifford, and Joan Kennedy for producing a much-valued  donations' bucket.
"Everybody looked happy in the marquee and seemed to enjoy it and it was great to have so many different people offering their time on the rota to do shifts." Adds Earl Pennycooke: " It was great to be part of the event and to speak to so many people who then realised that advice, information and support was available and that they were not alone in dealing with their own or loved one's mental distress."
Lena Malkin, Mosaic Clubhouse Business & Administration Unit Co-Ordinator (pictured below) enjoyed meeting members of the public. "People seemed to be very happy to find out that there is a central point for them to go to and find out information about mental health services in the Lambeth Living Well Partnership Information Hub." 
Sue Field, Programme Director, Provider Alliance Group says: " It was really good to have a Living Well Network presence at the fair. It was great to have some really good conversations with people and give them information about how we were working differently.
"People also came with really specific requests, about how they could access work opportunities, training etc. One person asked how he could support his nephew who had mental health needs to gain work experience he needed to access a psychiatric nursing course.
"Staffing a stall with other agencies made me realise the importance of working 'across the Network' , that together we could answer a wide variety of questions that people had, whereby otherwise on our own we would struggle." 
Summing up, Jolie Goodman says: "It was a great experience for Lambeth & Southwark Mind to attend the Lambeth Country Show. We had many enquiries about the services we run and requests for Information. Sharing our stall with the Living Well Network was a positive way to demonstrate partnership working to the local community. The dramatic weather saw many, many  people take shelter in the Charities Tent and we ran out of stress balls!"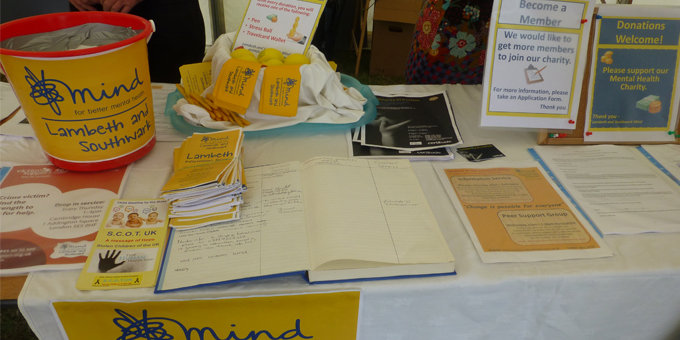 Karen Hooper
Photos:Kelly Boughtflower