Please be aware that Covid restrictions may still apply to some services, but we suggest you contact them directly.
While the Collaborative website is not intended as a directory of services, we recognise that some people may find themselves here seeking support. Listed below are links to local support for people in mental distress as well as to a number of directories and self-help resources.
For anyone needing urgent support
SLaM 24 Hour Mental Health Support Line – 0800 731 2864
This telephone line is for anyone who needs advice, help and assistance in relation to their mental health or the mental health or someone they are supporting.
It is available 24 hours a day.
The South London and Maudsley NHS Foundation Trust (SLaM) is the main provider of 'secondary care' and more information can be found here.
Solidarity in a Crisis – Freephone 0300 123 1922
This is an out of hours peer support service, co-designed and co-delivered by people with lived experience, including carers, providing support over the phone or in person.
It is available from:

Monday to Friday – 6pm to midnight
Saturday and Sunday – 12 noon to midnight.

More information on Solidarity in Crisis can be found here.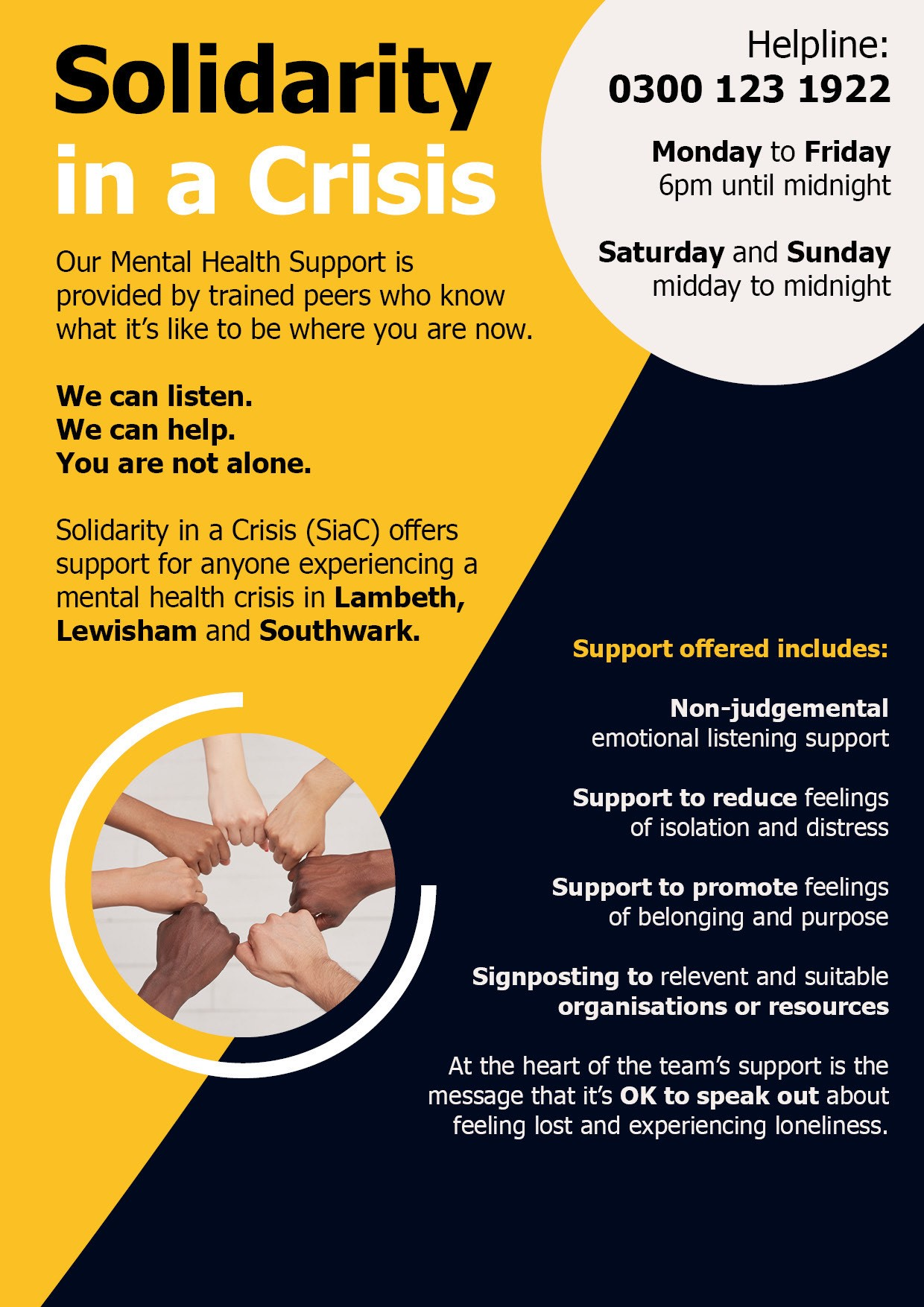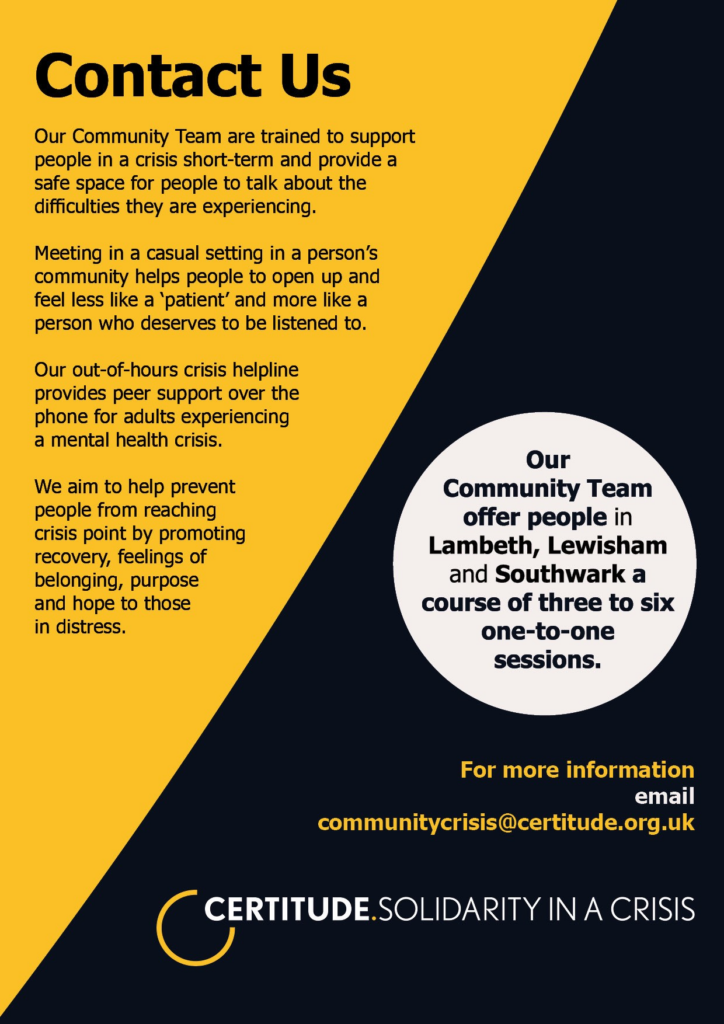 The Bridge Cafe, Lewisham
Please note the Harbour Café, (formerly run by Certitude for residents in Lewisham) closed on 31 October 2022. The new Bridge Café opened in Deptford on 1 November 2022.
The Bridge Café is a community based crisis diversion and resolution service, which aims to support adults in Lewisham who are experiencing a crisis, to help resolve matters before further deterioration and to help reduce presentations at Accident & Emergency departments. Access to the cafe is through 111 who will connect the caller to the SLaM Crisis line or through the Lewisham Hospital Liaison Team.
The Bridge Café will be provided by the 999 Club and is located at 21 Deptford Broadway, SE8 4PA. It will be open 6pm – 11pm Monday to Friday and 12 noon – 11pm weekends and bank holidays.
Evening Sanctuary at Mosaic Clubhouse
This is a service for people in a crisis where they can talk to staff and peer supporters about how they are feeling and take part in activities, such as exercise classes, art, TV, films or music, make a snack or be signposted to other services.
To access this service a sanctuary introduction form needs to be completed by your health care professional such as your GP or care coordinator.
The Evening Sanctuary is open every evening from 6pm – 12 midnight.
More information on the Evening Sanctuary can be found here.
Culturally Appropriate Peer Support Advocacy (CAPSA)
CAPSA-Leaflet-1

Papyrus: Provide confidential support and advice to young people struggling with thoughts of suicide, and anyone worried about a young person. Call: 0800 068 41 41 or Text: 07860 039967.
Qwell: Provide online emotional wellbeing and mental health support. If you would like to access the service please visit this link and register for support.
Shout: 24/7 text service, free on all major mobile networks, for anyone in crisis anytime, anywhere. It's a place to go if you're struggling to cope and you need immediate help. Text 85258.
Samaritans: Works to makes sure there is always someone there for anyone who needs someone. If you need emotional support, are struggling to cope or at risk of suicide Samaritans helpline is open 24/7 365 days a year and you can call them on 116 123.
For anyone needing general support
Lambeth has launched a Love Your Mind poster campaign with tips and links for keeping well.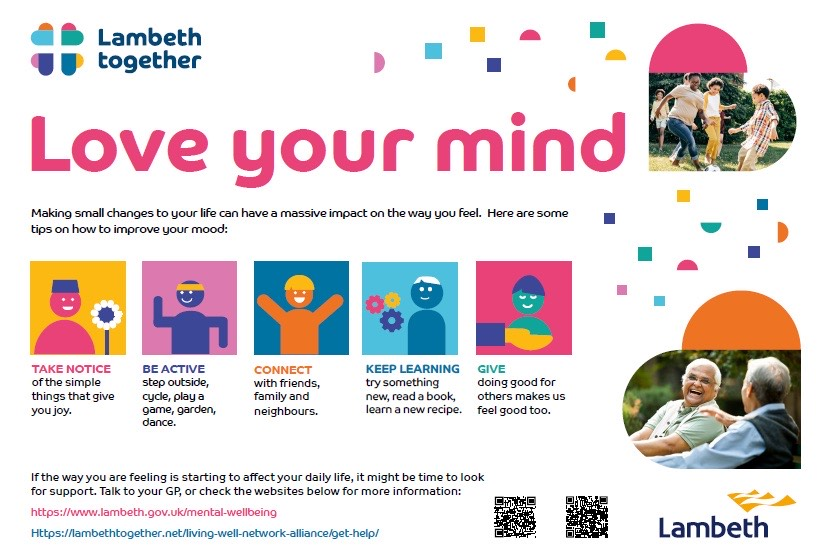 Information for carers can be found here:
https://www.carershub.org.uk/
Contact the Single Point of Access (SPA).
Contact them if you are worried about your mental health or need more support than your GP can provide. Click here for more information.
Integrated Talking Therapies
You can self -refer to the Lambeth Talking Therapy. Visit their website to find out more, including a guide to useful resources.
Lambeth Talking Therapies Service is part of the Improving Access to Psychological Therapies service (IAPT) programme. The service is available to anyone from 18, registered with a Lambeth GP.
Lambeth Talking Therapies offers support for people experiencing:

mild to moderate depression
general anxiety and worry
panic attacks
social anxiety
traumatic memories
obsessive compulsive disorder

They also offer help with other problems including anger, eating issues and relationship or sexual difficulties.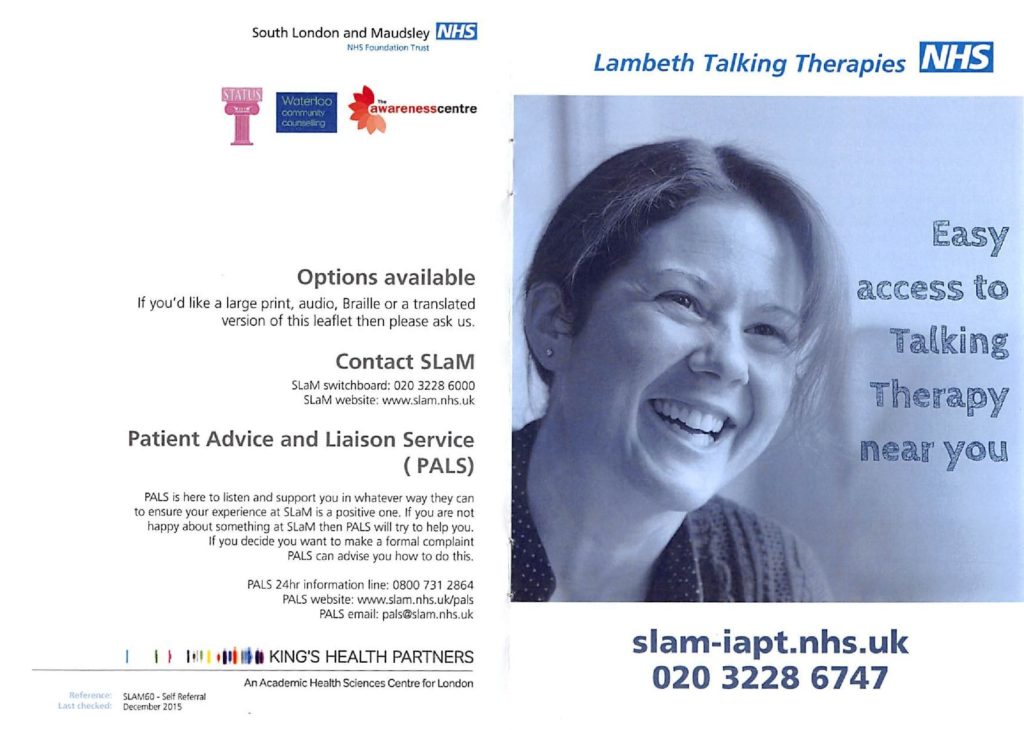 Lambeth Secondary Care Psychological Therapies (SCPT)
Provides stepped care psychological interventions in secondary care for people aged 18-65 who live in Lambeth and who have complex needs. SCPT offers low intensity group interventions and a step up option into individual and Family Therapy and peer support groups (see leaflet). Referrals are accepted by mental health professionals from IAPT (Lambeth Talking Therapies) and CMHTs ( Living Well Centres). It is important to be mindful of waiting times for higher intensity therapy, which is currently 12+ months. The aim is to support people into other options if they have to wait.
PeerS-leaflet

SLaM Recovery College
The college courses are accessible to those connected to SLaM but online courses and webinars are open to all. https://www.slamrecoverycollege.co.uk/
Self-help resources and directories
Mosaic Information Booklets
Mosaic Clubhouse has produced four excellent information booklets that cover wellbeing support and benefits, including Universal Credit, ESA and PIP.
The information booklets are available here: https://www.mosaic-clubhouse.org/InformationHub
MIND Directory
Lambeth and Southwark MIND has a long-standing and excellent directory of local mental health organisations that can be accessed via its website or by phone.