Though the objective of the day was to introduce people to what is on offer throughout the  Living Well Network, the Open Day proved also to be a  drop-in for the professionals in that it brought everyone together under one roof.
"As well as being a brilliant opportunity for workers new to Lambeth to network quickly and effectively, the Induction at Mosaic Clubhouse meant that people interested in using the services on offer could be referred to the appropriate stall, just a short stroll away, with a friendly wave (rather than the formality of phone calls and forms)," says Lee Elliott, Employment, Information and Training Co-ordinator. Those arriving at the Living Well Partnership's Effra Road HQ were given a warm welcome from hosts Mosaic and the more informal approach appeared to put people at their ease. 
Visitors also received a brief leaflet on the co-production principles  of the Lambeth Collaborative (of which the Network is a part) working closely with each person "to tailor make their support reflecting their strengths, hopes & aspirations and their needs, to promote long term mental wellbeing and strong social support networks".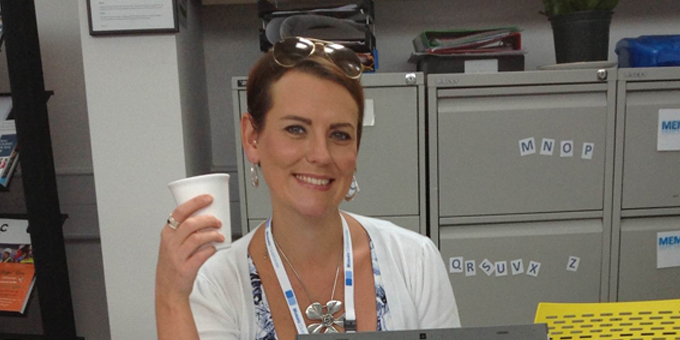 Promoting strong social support networks is the mission of Liz Lawrence, Community Connecting Coach (pictured above)  who was impressed with the event. "At one point there wasn't enough of us on the stall to talk to people, she says. "It's popular because people like the concept of being away from services and leading more independent lives" (Liz works with about 12 people at a time, linking them to something they are interested in increasing their opportunity of making friends around shared interests from gardening to Zumba, supporting them to front up but then letting them shape it themselves). See www.connectanddo.org
Learning experience
Mark Young, Manager of the Community Options Team (Thames Reach), (pictured top with Sue Field, left and Stacey Hemphil),which is part of the Living Well Hub, the front door to mental health services in north Lambeth was heartened by the new venture. "It's great to get all the services together and allowing people to see what's available in the borough," he said.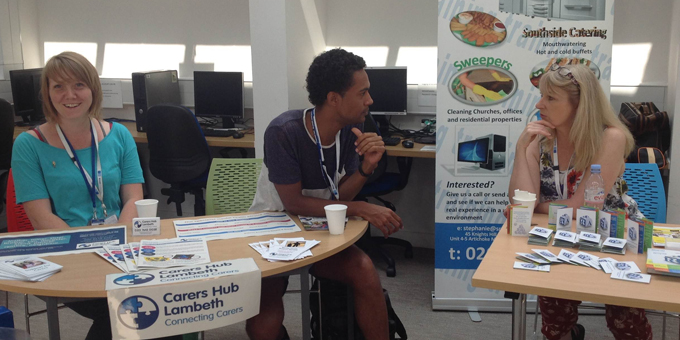 Stacey Hemphill, Hub Manager, described what it had meant for her to have Sarah Bennett and Curtis Sinclair from Lambeth Carers Hub (pictured with Julie El Bahrawy, Finance Officer from SRA) sitting across the room. 
"It was great to be able to speak informally with Sarah and Curtis, I was able to share some of the needs of people who I had recently met at the Hub and think about ways we could support people together; I feel this regular event will provide a place for service users, carers and staff to meet up and grow exactly the type of accessible community support networks the Collaborative is aiming for."
Sue Field, Programme Manager, Provider Alliance Group said she had learned of activities from stall holders that she did not know about; for example the Connecting Communities' weekly coffee mornings that provided 'an opportunity for people to meet each other and forge friendships'.
In all 12 organisations signed up, and more than 50 people attended.
"We are hoping to expand both the number of agencies present and attendees month on month," added Sue.  
 Maresa Ness, Mosaic's Chief Executive was inspired by the event.  "Every time we host a large event it provides many more opportunities for members to learn new skills, this is always welcome! Reception was very, very busy, which is really valuable training, the hospitality team were buzzing as they kept the hot and cold drinks and cakes flowing. The cleaning team were straight on to every spillage and took pride in keeping the environment litter and clutter free. Members set up the room and then put the furniture away at the end. We had members working on the slideshow and music, as well as "meeting & greeting"  and keeping an eye on parking. The atmosphere was friendly, positive and collegiate! The Living Well Network was there for all to see; learning more about how we can work even more closely together to maximise the opportunities for Lambeth residents living with a mental health condition." 
The next open event is September 25 at 11am.
Karen Hooper