"When you do time, you can't get it back… it made me learn not to come back," says 24-year-old Aaron who had to learn the hard way when his drug-related lifestyle landed him  in prison and having to deal with mental health issues.
"I was happy when I was high," says Aaron looking back at his days of smoking cannabis, "but it was the weed that made me crazy."
It was during the 11 months spent between prison and hospital that  he decided it was time  to move on  and "stopped smoking weed".  He says that talking to chaplains and prison staff helped, as well as the support he got from his mum and family (he has six brothers). 
When he came out of hospital he moved into a hostel for two years. He had a short relapse in 2011. This year he moved into his own council flat. "It feels good having my own home, I feel fully independent." Going to the gym, cooking and healthy eating have helped him to stay well. "I learnt a lot inside, how to cook, how to make healthy sandwiches and I did yoga. I got 12 certificates while in hospital from gardening to managing mental health, understanding about the triggers to relapsing was really important." 
Building trust has played a major role in Aaron's recovery and his hopes for the future to be a car mechanic. At the start of the year he was referred by his hostel key worker to the West Norwood SMaRT garage run by First Step Trust  (FST), a  charity providing employment opportunities for those excluded from work because of mental health issues and other disadvantages. The SMaRT garage (which stands for Socially Minded and Responsible Trading) gives practical on the job experience and links to nationally-recognised qualifications and support applying for jobs.
Aaron had already started a college course in mechanics through another organisation (he gained Level 1 City & Guilds in Motor Vehicle Mechanics) but the funding was cut and he was keen not to lose the skills he'd gained. He attended Bromley College three days a week and gained his Level 2 City & Guilds and plans to do Level 3 next year.
But on Mondays and Wednesdays he can be found at the West Norwood garage, where his skills and confidence have gone from strength to strength.  "It's a good environment to learn, the staff are patient, so the willingness to learn becomes greater because of the support," he says. 
Aaron has had a chance to travel to the trust's other site in Woolwich and attended the launch of the Crayford garage recently. Vicki Butler-Henderson, racing driver and presenter on Discovery Channel's Fifth Gear and BBC's Top Gear got the  proceedings off to a racing start. Aaron says he was moved by the inspirational stories about the workforce and how people get back into work. "It makes me feel I want to get a career and a salary. I'm 24 and I think it's about time. When I came out of hospital the first time I got a job in Gap (he worked in retail from the age of 16 and says this experience has helped him when dealing with customers at West Norwood).  This time I want to get my CV up to date and shape up to mechanics."
The garage is a place where there's an understanding that people are coming from a similar place… even if little is said. "Men talk about cars and things," says Aaron wryly. "Everyone has a rough patch in their lives, it's about how you recover; it makes or breaks you I guess."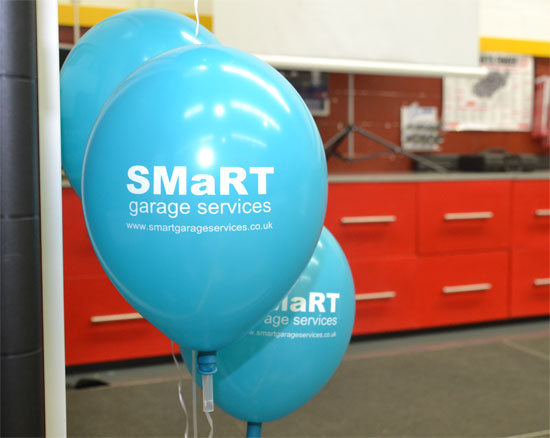 Garage Manager Grant Holland can empathise with Aaron and his workforce.  It was only six years ago when he was diagnosed with severe dyslexia and dyspraxia. " I've spent 34 years doing what I enjoy – repairing cars, teaching in college and running workshops. If anyone is having a hard time I can say, if you want to do it you can, I'm a prime example.I've got shed loads of qualifications to degree level but I 've struggled all my life with paperwork and I  can't play cricket because of problems with co-ordination."
Six months into the job Grant is clearly an inspiration to the workforce members who are trained in a range of jobs from cleaning the cars to helping rebuild engines. "You have to support people to come to an understanding that they have to start somewhere," he says, "and then learning to treat people as apprentices."
Employment Development Worker Guyto-Joseph Vel is moved by the transformation he has seen in people in his 16 months in post. "The guys are often shy, withdrawn , sometimes don't speak and have a lot of self doubt… the transformation is incredible as they get to know each other and socialise. " The workforce is evolving and changing with up to 26 people on its books. Guyto runs a job club, supporting people to update their CVs and meeting to discuss their Personal Development Plans. The garage had funding to put people through their driving tests – three people have just passed their driving theory and two will be test ready by December.
FST's CEO, Ronnie Wilson MBE, says FST recognises the importance of giving people the chance to experience the pressures, responsibilities and expectations of working life. The people who join us have experienced exclusion or are unable to participate in mainstream opportunities such as the work programme.
Work and access to paid employment plays a crucial role in supporting people's recovery and full participation in society. FST and other organisations involved in the Living Well Collaborative and the wider community can all play a positive part in supporting this. We would strongly urge you to use SMaRT garage at West Norwood and Abbeville's Restaurant in Clapham. For more information please go to 
www.firststeptrust.org.uk
9 Windsor Centre,
Windsor Grove
West Norwood
SE27 9NT
0208 761 2269
lambethsales@smartservices.co.uk
Photos: © First Step Trust 2013
 
News from Abbeyvilles' restaurant next month.