Volunteers remain indispensable in ensuring the smooth running of the Evening Sanctuary, which is going from strength to strength since its launch in 2015. Meanwhile, the new staff team of Catherine Hann, Jane Sabar, Lenka Hlavata and Luke Doolin are settling in well.
Mosaic Clubhouse Members play a crucial role in helping to run groups and providing essential peer support. Saturday's Art Deco Group is proving popular.
Following on from a Sanctuary visit by the Department of Health, when peer supporters shared their powerful stories, Chief Executive Maresa Ness is insistent that peer support is at the heart of Sanctuary success. "Peer support isn't an add on or a project for us. We recently had a visit from the Stone Family Foundation and the New Philanthropy Capital (leaders in measuring impact) featuring our co-production (side-by-side) approach in their best practice seminar."
Maresa emphasises that "far from being a good idea or an aspiration peer support is absolutely built into everything we do every day authentically and always has been."
Below a report, which captures moving testimonies from those who have used the Sanctuary at times of crisis.
The aim of the Evening Sanctuary is to offer support to people at times of mental health crisis, not with clinical interventions or hospital admissions but through access to a safe, welcoming, supportive space where people can explore their crisis in a different way.
Launched in May 2015 The Evening Sanctuary started as a three-month prototype, opening 2 nights a week. It is now open 5 nights, Wednesday through to Sunday, between 6pm and 2am. People referred to us in crisis can talk to staff and peers about how they are feeling and take part in activities such as exercise and art, watch TV or films, make a snack or be signposted to other services. 
Since opening the Sanctuary has provided crises support to
86
people on
956
occasions. (May 2015 to Apr 2017)
Referrals came from a variety of sources in the first year (May 15–Mar 16) with
23
referrals in total from A&E departments at Kings and St Thomas', the Living Well Network Hub, North Lambeth Treatment Team and Street Triage. In the second year (Apr 16-Mar 17) referrals were taken from a wider number of organisations. There were
86
referrals in total; referrals continued to be taken from the sources above and also included Community Mental Health Teams, Amardeep South Asian Community Mental Health Service, Certitude, St Georges and the Maudsley hospital.
There are a variety of reasons why people want to attend. Many state loneliness, isolation and depressions as key factors. Some of the examples below tell a familiar story:
·
Personal issues, lack of mental health support, possibly PTSD and impending homelessness.
·
I am going through a crisis and I feel suicidal. Most especially in the night.
·
I was hearing voices in my head telling me to kill myself and I could not take it no more.
·
Needed support due to anxiety of death anniversary.
·
Scared at home.
·
I feel overwhelmed and in a crisis.
·
Feeling Suicidal due to unresolved on going back pain and unsolved issues in the flat- no heating, no gas, no money for food. Desperate to get through the weekend.
·
I was very isolated and depressed.
·
Fear of taking negative action (self-harm / violence) when not accessing healthy support.
·
Feeling fear being followed by enemy, and overwhelmed by stress at work.
·
The hospital referred me here and I was having problems.
We ask people 'where would you be tonight if you were not here?' The selection of answers below demonstrate the acute need for a safe space for people to come to in order to avoid escalation of their mental health crises:
·
Walking the streets
·
Very depressed at home
·
I would be home alone isolated
·
At home alone self-indulging in self-destructive behaviour
·
Sitting indoors feeling bad, or in A&E or a pub
·
Drinking, getting drunk on the street.
The evening sanctuary service has proved its success in elevating people's mood by the end of their visit. We ask people to rate how they are feeling, on a scale of 1-10, before and at the end of their visit. The average before score is
4
, with the after score showing a marked improvement at
6
.
People who have used the sanctuary say:
'When I first used the service I thought "This is too good to be true". Normally everything is nine to five and Monday to Friday. The sanctuary is unusual because there is a consistent group of people every time who you get to know and who get to know you. You do not have to tell your story over and over again. I have found the service invaluable. Being able to come along and speak to someone five nights a week without making an appointment, I don't know of anything comparable.
If it wasn't for the sanctuary I wouldn't have had anyone to talk to; I wouldn't have had any support. You're all doing a fantastic job.'
'I came to the Sanctuary because I was feeling very depressed. Even though I've managed to do good things it was sad that the positive had come to an end i.e. with my job. I also had external factors that had made me ill. All these factors came to the fore and I was in crisis. At my time of crisis I was not feeling fully supported by my MH care team, as there were changes in the team and staff members were away. My family were not properly in contact so the Sanctuary was a blessing.
It was important I had somewhere to come, so I didn't do something stupid with the money I've saved. I would have been at home thinking of doing 'silly things'.  I had thoughts of going to A&E, but I don't think that would have been good for me.  The speed with which I got access to the Sanctuary was great, I had help from the first day I needed it. Having people around me helped. I didn't have to sit in a waiting area, like A&E, being scared of what might happen and getting tired. Talking to people at the Sanctuary was so important. Activities were great to keep my mind off 'dark thoughts'.
In the week and a half I have used the Sanctuary I feel I have come to terms with my situation and I have had time to think about what to do in the future. I would recommend the Sanctuary to other people.'
'The Sanctuary is a friendly, safe place, where I can just sit and talk to other Sanctuary members, it is relaxing and takes me away from my mental health problems. I attend the Sanctuary as I am stuck indoors almost 24/7 with my anxiety and depression and I miss being around people. The Sanctuary gives me the opportunity to meet people. The Sanctuary has helped me to open up with Support Workers and trust people again. Also, when I'm at my lowest, I can go to Sanctuary and do stuff like quizzes to having a laugh. The Sanctuary has helped me more than I can say, due to the care, compassion and understanding of support workers and volunteers.'
'I came here in crisis – I was not able to leave my house or my room for a week. When I came to Mosaic sanctuary on my first night, it was the first time I had a smile on my face in a long time. Talking to people who understand my situation and being looked after straight away, getting peer support and help around different coping methods, really helped me to bring myself out of my shell and regain my confidence. I am still "making steps forward" to get myself on the right track and am managing better with my mental health. Before I did not see the way out, but now I've got my motivation back to do things. I was scared about university, but am going to smash my degree and apply for film school next year. There should be more services like this around the country. It would be great, if the length of using the crisis service could be tailored according to individual needs.'
Age Range of Sanctuary Visitors
Ethnicity of Sanctuary Visitors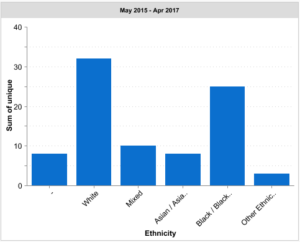 Gender of Sanctuary Visitors