World Mental Health Day continues with an abundance of activities with the Brixton Reel film festival rounding off October and other events in November.
World Mental Health Day is a day for global mental health education, awareness and Advocacy and was first celebrated in 1992. The initiative is run by the World Federation for Mental Health (which has members and contacts in more than 150 countries). The organisation estimates that 26 million people across the world are living with schizophrenia. It also highlights that more than 50% of people with schizophrenia cannot access adequate treatment and 90% of people with untreated schizophrenia live in the developing world.
 See below to access the latest report.
What happened locally?
Mosaic Clubhouse members (hosts at the Living Well Partnership in Effra Road) were in Windrush Square, Brixton, talking to people on the Day. Mosaic (as part of the international Clubhouse community) are also celebrating being awarded the world's largest humanitarian award, the Conrad N. Hilton prize worth 1.5 million dollars. Locally, Mosaic is proud of recent national acknowledgements being highly commended in the Charity Awards and shortlisted for the Charity Times Awards… and just announced Mosaic's Chief Executive Maresa Ness has been selected as one of the finalists for the COLLABORATION (INTEGRATION) AWARD in the 3rd Sector Care Awards. 
Meanwhile, Lambeth and Southwark Mind with Brixton Live Partners were at Brixton Library. The day started with a children's sensory interactive performance, Mind ran a stall and Co-Interim Director Earl Pennycooke gave a talk. Later, Raw Sounds celebrated the positive impact creativity has on wellbeing. Here's what carer Matthew McKenzie made of the day in his wonderful film (Click here to view the film)
Evening with Black Health and Wellbeing Commission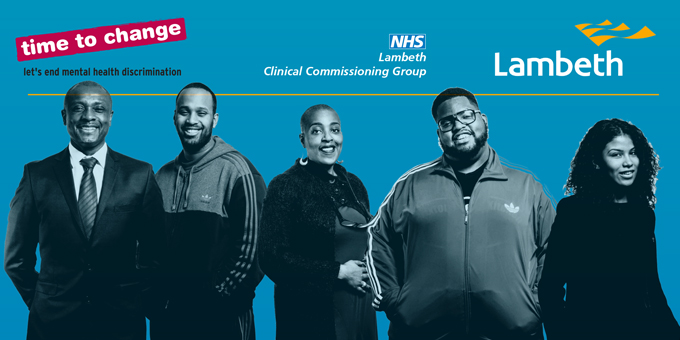 Chuka Umunna MP  joined Councillors Ed Davie and Jacqueline Dyer, co-chairs of Lambeth Council's Black Health and Wellbeing Commission at an event at the Lambeth Assembly Hall, Brixton.
 The event, which also fell in Black History Month, launched the commission's report looking at prevention and improving mental wellbeing in Lambeth. Time to Change – a campaign to end mental health discrimination and stigma  – launched its initiative focusing on black African & Caribbean communities.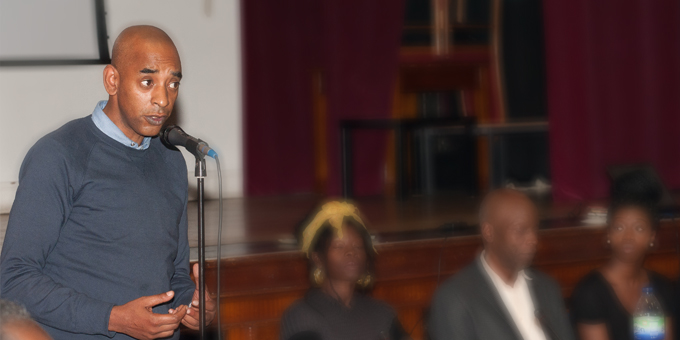 (Pictured above Earl Pennycooke)
There was entertainment from poet Jean 'Binta' Breeze, refreshments and with the event drawing lots of Lambeth residents to the discussions, this was a truly co-operative council event. Click here to see more about the report.
SHARP art and events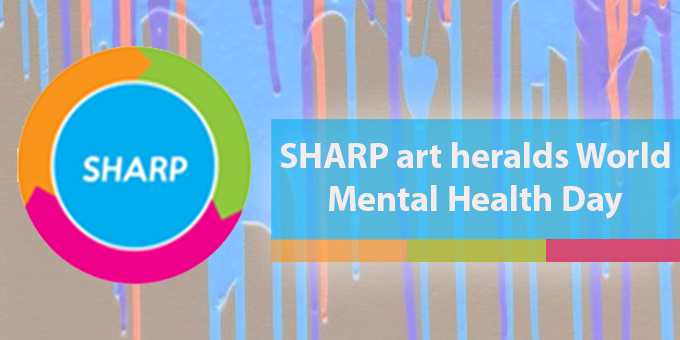 Artists at the SHARP Gallery are celebrating with an inspiring exhibition and some thought-provoking events. The group exhibition Who"s Self Portrait has been curated by visionary local artist and carer Mary Salome. I was particularly drawn to a work of a pumping red heart with the words 'pathologise this'. Claire Groake from the team sent out "a big thank you to everyone involved in World Mental Health day 10th October event… just one of the events we ran across the last few weeks in collaboration with the GV gallery which were a great success." She added that the team had had some lovely feedback,  and people had shared how this linked to their recovery. A psychology trainee fed back that "SHARP is an unusual mental health setting, so creative and positive". People enjoyed trying out the mindfulness and creative writing tasters (thanks Anne and Marieke) and many were impressed with the standard of Art work from those who exhibited, adds Claire.
"A massive thank you to Mary Salome for your creative and organisation support for this event as well as everything else you have done for World Mental Health Day." 
Click here for more information 
 The Reel kept rolling
Acknowledging that World Mental Health Day is more like a season, Brixton Reel Film Festival continued the festivities throughout October. Click here to read more.
Read more about the event Mosaic hosted here.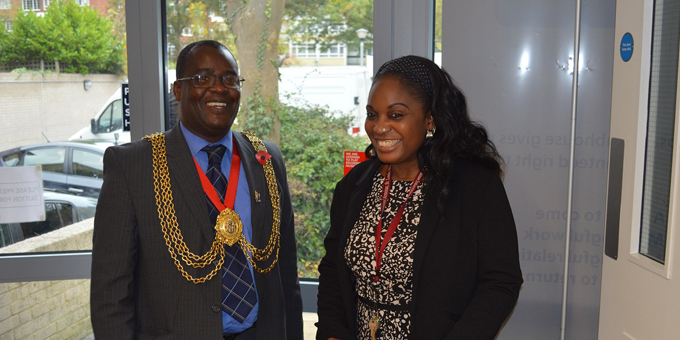 (Beverly Randall, Programme Manager of Mosaic Clubhouse with the Lambeth Mayor pictured above at the Brixton Reel Festival) 
Click here for the World Federation for Mental Health's latest report
Karen Hooper