Asset-Based Approaches for Better Health and Well Being is a bit of a mouthful but on the tongue of Cormac Russell, the keynote speaker at the Lambeth Collaborative's recent event, it is inspiring.
In Cormac's world the ABCD (Asset Based Community Development) cup is always half full…  that is, that we all have assets… we all have something to bring to building a community. His is a world of wonder, where "neighbourhoods are the nurseries of democracy", rather than the no go segregated communities, segmented like a tangerine where people are used to having things done to them.
"What we ask people to do at their most vulnerable is to reorganise their lives the way we've organised our services," highlighted Cormac (Managing Director of Nurture Development, and  faculty member of the Asset Based Community Development Institute at Northwestern University, Chicago), speaking to a packed audience from the mental health and wellbeing world at the Kia Oval.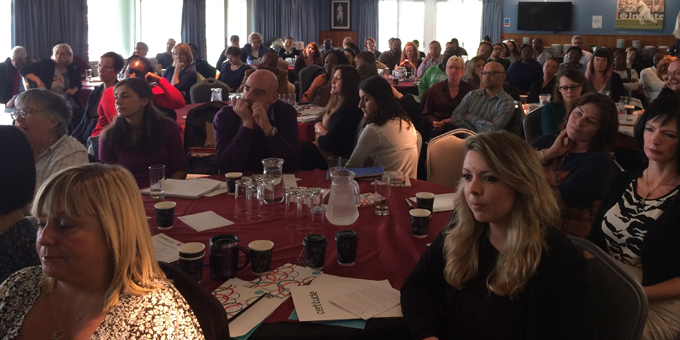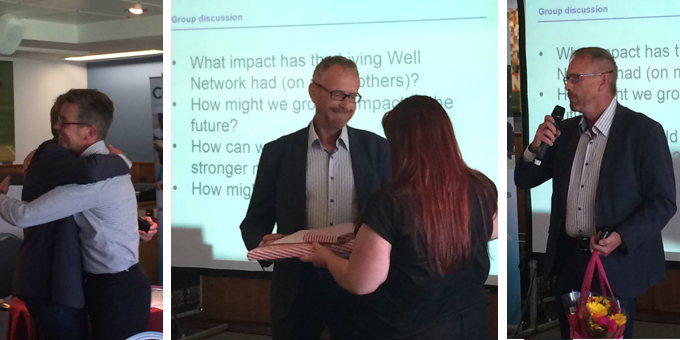 Cormac ,who has trained communities, agencies, NGOs and governments across the globe was supported by Samantha Clarke, Chief Executive of Inclusion North (both pictured top) who brought the ethos home, reflecting on Local Area Coordinators in the UK who "do the stuff that really matters first, rather than as the final thing tacked on at the end 'after we've serviced you'. "
These thought-provoking openers were a great launch pad for Certitude's Connect & Do website, while the afternoon session took people on the Lambeth Collaborative journey thus far and asked people to help grow the Living Well Network.
It was also a sad but celebratory time as colleagues said goodbye to Collaborative member Ray Walsh retiring after 20 years as a GP. Ray was thanked for his inspiration and commitment by David Monk, the Collaborative Chair, while Natalie Sutherland, Mental Health Integrated Programme (MHIP) Co-ordinator (pictured above) made the presentation.  Ray said it was ironic that  "my involvement in the Collaborative has empowered me in making my decision to retire", that it was time to listen to the advice he had been prescribing his patients. Click here to read Ray's story
Reflecting on the day
"Cormac and Sam remind me how sensible it all is," says Stacey Hemphill, Manager of the North Lambeth Hub. "We are citizens of Lambeth, we need to listen, use the people and things that already exist and work and build on them. Not try and fit the community into a service that we've created."
The Collaborative's Bill Tidnam agrees:"It was good to renew the collaborative approach, and to be reminded that this is not  just about how services work, but about how communities and people make a difference."
Cormac's "fresh thinking was like a shot in the arm" for peer supporter Garry Ellison, who was inspired by the event and vision to  "revolutionise the mental health sector by mobilising already existing groups in our communities."
Attending her first Collaborative event Helen Butlin, new Co-ordinator of the Hidden Voices project was inspired by the power of stories and the example of community empowerment: "I will keep this in mind in my work with Healthwatch and the gathering of people's stories. Hearing each voice and finding common stories are the foundations of strong communities," she says.
The afternoon stocktake brought people up to date with the Collaborative's work so far, as well as the chance to think about the impact the Living Well Network has had and what's needed to make it stronger and bigger. People had a chance to join groups focusing on Primary care, peer support, preparing for work and a career and using technology.
Idris Ahmed, team leader of  the Beyond Prison and Somali projects (Certitude), found the event "eye opening… I learnt a lot including more about the Lambeth Collaborative, " he says. "It will mean I'm able to better share info with people all round."
Jonathan Morally, from Mosaic Clubhouse who is helping to shape the Collaborative website enjoyed the technology discussion: "It was a fantastic opportunity where we really worked together as the different organisations to strategise how we could make technology assist and make support, advice & information more accessible for everyone."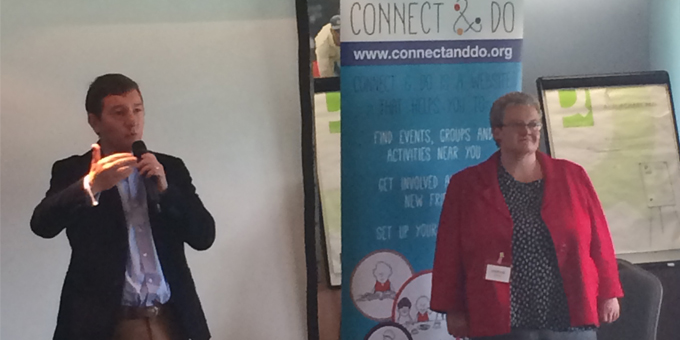 Next steps…
Reflecting on the event overall, Nicholas Campbell-Watt's, Certitude's Director of Mental Health says, "Listening to Cormac inspired me to think again about how to really use a strength-based approach to working with people, so that we can understand people within their family and community and help to strengthen these networks.
"The overall day reinforced my commitment and belief that the Collaborative is making real progress. But it also challenged us to think beyond services and organisations.  The potential assets of people and communities has still not been sufficiently integrated into our thinking and offer and it's exciting to look at how that could reinvigorate our work."
Summing up Denis O'Rourke, Lambeth CCG's Assistant Director Integrated Commissioning – Mental Health, says: "The event provided us with renewed energy and insight into the work we have been doing over the past 3/4 years. In particular how do we take an asset based approach to scale?
"It really made clear that this can't be achieved by just bolting on "asset" based initiatives (such as peer support or Connect and Do) on top of our service system. The key message was that an Asset based approach must underpin all that we are doing and that people and communties need to be driving this and supported to do so.
"We will be reviewing how we take the next phase of the work of the Collaborative in light of the discussions . We will seek to build alliances with local people in their own communities as a key part of this work."
Karen Hooper
Photos: Natalie Sutherland, Stacey Hemphil
Watch this space for more from the event
Click here for Community Connecting report