Fridays are blossoming for 18-30 year olds at Mosaic Clubhouse. The young adults  meeting is a space for people to get to know each other, make links and share issues and experiences. However, back from training with a fresh focus, Lena Malkin, senior  support worker and co-ordinator of the Business and Administration unit says it's about  giving young people with mental health issues the same opportunities as their peers in the transition into adulthood, thus enabling them to engage across all age groups.
"The message is that young people want to do the same as their peers are doing –  studying, getting work experience, so it's not so much about leisure and social activities but reaching out and connecting better," says Lena. "People want study support, employment… they are in a transition period, but they are saying it's not all about having fun."
The group recently carried out a research project to identify what other organisationsare doing for young people with mental health issues. They followed it up with two focus groups, at Mosaic and the other on a ward at Lambeth hospital looking at addressing the gaps.
Plans are to reach out more into the community, presentations to hostels, for example, getting people to engage with the information hub, get employment and educational support and tackle isolation. Lena sums it up thus: "It's about acknowledging that young  people have goals and helping them to achieve them."
Picture this
The programme has also been running workshops on photography, illustration and animation – our photographs are the work of the groups' budding snappers. It is run by trainee support worker Ade Adekoya with member Matthew. "I picked up photography while I was studying accountancy and finance at university and have never looked back," says Ade (pictured below).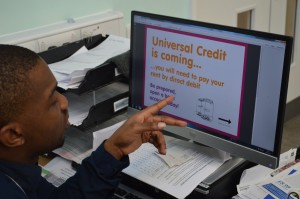 "The young adults have had to put their creative skills to work and it helps them engage in the media side of Mosaic. They are getting to grips with the principles of photography and videography." – watch the video below. Support worker of six years Jonathan Morally sums it up perfectly when he says that this fresh focus gives young people "ownership… It feels a lot more exciting for them."