As the headlines focused on Prime Minister Theresa May's 'hidden injustice' of mental health speech, the Lambeth Living Well Collaborative was rolling up its sleeves ready to get down to business at the first Collaborative breakfast of the year.
Commissioner Denis O'Rourke, said 2016 had seen much of the Collaborative's ground work over the past few years come to fruition. There were inspiring stories about people moving toward independence, while large numbers of people were accessing support via the Living Well Network, which "provides strong evidence for our holistic collaborative approach.
"In 2017 we need to continue to build on our positive progress and seize the opportunities to achieve whole system change (e.g. Whole system alliance) which will mean many more people will benefit from our holistic asset based approach. We will also continue to work with others to realise the benefit of some of the big "enablers" available to us including "digital" and "collaborative leadership" with communities."
Sue Field, Director of the Provider Alliance Group and IPSA (Integrated Personalised Support Alliance) said she hoped in 2017 to see more progress in a wider system approach, where "we are able to practically support each other across traditional boundaries and structures so that particularly people with complex needs can be supported in their recovery".
Adrian McLachlan, in his January report as Chair of NHS Lambeth Clinical Commissioning Group (CCG) says there has been significant progress in reshaping mental health provision in Lambeth, which has been driven by the Collaborative and "via the Alliance provider arrangements put in place over the past few years. We want to build on this progress as we still have enormous challenges to address."
He said he was pleased to read a blog published by the British Medical Journal, mentioning the Collaborative's work. See below.
Futures Workshops
The Collaborative rounded off 2016 with three Futures Workshops exploring the key drivers and enablers that should fuel continued innovation in Lambeth.
The workshops focused on Digital Thinking, 21st Century Demand Management and Collaborative Leadership – the final on December 15 was a year to the day of a Collaborative borough-wide event at the Kia Oval, Kennington. Then a packed audience had heard of the journey to transform mental health services guided by the principles of co-production and a mission to meet the Collaborative's big 3 outcomes to support people –
To recover and stay well
To make their own choices
And to participate on an equal footing in daily life.
The Living Well Network's Emma Willing and Stacey Hemphill shared ambitious plans about the infant Hub, the emerging 'front door' in primary care. There was an overview of the redesign in secondary care at the South London and Maudsley NHS Foundation Trust (SLaM), and an introduction to Alliance Contracting, bringing five organisations together to improve the lives of those in long term residential settings, via the IPSA (Integrated Personalised Support Alliance).
Councillor Jacqui Dyer, Vice-Chair of NHS England Mental Health Taskforce & Co-Chair of Lambeth's Black Health & Wellbeing Commission, and SLaM's Zoe Reed, then Director of Organisation & Community, shared their work around the Black Health and Wellbeing Commission, urging the importance of moving forward on the 48 recommendations of the Thriving Not Surviving report. Zoe retired from her post in April after chairing the Resilience Interest Group (Southwark & Lambeth Integrated Care, SLIC, programme) and continues to be involved in a number of community focused groups.
Moving on in 2016
A year on at the Foundry, Oval setting, Cordwell Thomas gave an inspiring update as a Steering Committee member of the Black Wellbeing Partnership and told of the five-year programme to build on the Thriving not Surviving recommendations.
At this final workshop it felt that all the hard work and visioning of 2016 had really started to make a difference. Sharing a platform with Lucy Canning, Service Director for Pychosis Clinical Academic Group (CAG) at SLaM, Denis O'Rourke, reported a 43 per cent reduction in SLaM referrals, reduced waiting times and up to 400 people supported a month – before they reach crisis point. This was a key achievement of the Living Well Network Hub and reflected the hard work of its staff. Meanwhile, via the IPSA programme, 65 of 200 people have been supported to move into more independent living and a wider remit on Alliance Contracting is near to fruition.
Those attending were impressed with the workshops.
Game changers
Victoria Sherwin, acting as a coordinator for Vassall and Coldharbour Forum, "which is bringing together up to 60 organisations to create a diverse, empowered and prosperous community in our neighbourhood", said the workshop was "very helpful in introducing me to key partners, specifically the Black Wellbeing Partnership, which I think aligns very closely with our aims at VACF. They described their work as a game changer and this is what we want too – to make a long term and large scale change for people who have suffered multiple barriers to prosperity over decades. Thanks to the Collaborative for bringing us all together."
Sarah Josefsberg, Business and Service Development Lead/ Evaluator with SHARP (SLaM's Social inclusion, Hope and Recovery Project) found the workshop "really inspiring in that it reinforced the idea of leadership coming from anywhere and the need for communities to work together and find a common language and shared ideals in order to make a positive impact on the people we care about."
Sarah had also enjoyed the Digital Thinking workshop having led on an innovative project developing animation clips to illustrate SHARP's work with voices from service users who have taken part.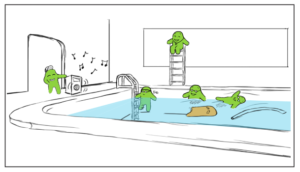 First Step Trust's Gail Dawson whose remit includes supporting those with mental health issues, those recovering from drug and alcohol abuse, and repeat ex-offenders into FST's work placements in motor mechanics, office admin and finance, restaurant and catering, and gardening said the Leadership and Demand Management workshops had helped her see things from a different angle that she had not thought about before… for example, "there is a high demand for beds for mental health patients because that is what is on offer… alternatives are important if demand is to decrease…"
First Step Trust's Trading Places initiative last year saw senior executives, including Collaborative members invited to work alongside the workforce at Abbevilles restaurant and the West Norwood garage so that they go back to their companies excited at the prospect of doing something sustainable for people disadvantaged in employment.
There was also a Collaborative effort to get Owen, a 1969 Renault Estafette back on the road. The van will be hired out to create three FST jobs. Owen has "enjoyed a lot of support," says Ronnie Wilson, FST's CEO. "He is now in the last stage of the 'downward spiral' and with a bit of luck his recovery will begin in earnest sometime between now and next March when his welding work should be completed. " See update below.
Carers' call
David Meyrick, the new Mental Health Carers Advice & Support Development Worker, Carers Hub – Lambeth (who took over from Ruth Samuel who left in June) attended the Digital Thinking and Leadership workshops . He found interesting the exercise using a persona to see what could be changed in a person's life. On the practical side there was also networking and a chance to speak individually to the different projects represented (My Health Locker and IPSA in my case).
He said it was "promising to see that there is progressive and holistic thinking shaping the plans for mental health services in Lambeth, especially that these plans value the role of families and carers."
In 2016 carers were involved in inputting into a Lambeth Families and Carers Strategy.
Carers are keen to input into shaping services, practices and delivery, and to see carer led, or activities that put carers in the driving seat. The strategy focuses on – Using a whole family approach, carers having a life of their own alongside their caring role, being supported so that they are not forced into financial hardship and being supported to stay mentally and physically well and treated with dignity and respect.
Meanwhile young carers took part in a special stories project. You can read the report below. The next steps are:
to support the work that Carers Hub Lambeth is doing to raise awareness in schools
to work with a small number of GP practices to design and prototype a Carers Friendly GP practice
to co-design a young adults carers wellbeing project (16 to 21) and hopefully to get it funded.
Reframing our worlds
The importance of stories to bring change was captured beautifully by the final speaker at the Collaborative Leadership event Chris Lawrence-Pietroni, Co-director of Leading Communities. Chris used footage of Robert F. Kennedy's speech (April 1968, Indianapolis) following the death of Martin Luther King and Nelson Mandela's resonant moment when he chose to wear the Springbok jersey and baseball cap during the 1995 Rugby World Cup, to illustrate how we can reframe our worlds and bring change. The workshop exercise brought laughter and emotion and helped people in the room to consider other perspectives.
I found this particularly moving having spent a number of years talking to people about their recovery journeys, and in 2016 those who have benefitted from IPSA and what can be achieved from a collaborative alliance.
Natasa Kyvetou was a fledgling when she attended the 2015 Collaborative event . She was enormously helpful in connecting me to Elaine to tell her story (click here to read more about Elaine's story).
Natasa had attended a housing workshop at the event and said at the time, "there was a lot of discussion around housing associations and how soon they respond to needs. We discussed whether there is a way for housing association staff, and even staff who do the gas checks/maintenance, to be able to express any concerns when they visit people who do not engage with mental health services that often. We also talked about difficulties of maintaining a tenancy and the challenges when people are in hospital, which was interesting."
A year on Natasa, IPSA Team Manager says , "that was indeed an interesting and helpful event looking back.
"Looking at how IPSA services have progressed and are now well established, I can say that partnership working is key. IPSA has helped many people to step down to more independent living and we have seen people being happier, more motivated and having more hope for the future through their step down journeys. We have had some difficult cases and by focusing on positive risk taking and strength based approach, we have managed to empower people to do better and stay well and active in the community. I look forward to a great new year for IPSA and more people to be given the opportunity to have a personalised package of care that can support their needs and enable them to live their life as they want it.
As 2016 came to an end I visited a new IPSA initiative for women in West Norwood and am looking forward to more stories emerging from here and other parts of the network.
Anna Penn- Carruthers, IPSA Cluster Manager explains the house has been open for four months and all 12 residents have been able to move from registered care placements. "The staff are working with them around increasing their independence and rebuilding skills that were lost. In 2017 we will be focusing on reengagement back into education/employment and researching out to local resources in the community. So far we have seen people's independence grow dramatically… A couple were unable to access the local community prior to moving due to Anxiety issues, they are now going to the local shops independently and accessing the local community."
Anna is pictured with team members at a ceremony in December when IPSA won the Collaboration award in the 3rd Sector Care Awards, presented by Esther Rantzen. IPSA also featured in NHS Lambeth Clinical Commissioning Group Lammy Awards, along with the Evening Sanctuary.
Other awards last year included Mosaic Clubhouse, Charity Governance Award (Managing Turnaround) and SLaM's Clean and Care project: British Institute of Facilities Management for social impact (Clean and Care's work training project was also recommended by the New Economics Foundation, as a model for significant expansion). See new website here
Change is Possible
Congratulations also to Lambeth & Southwark Mind, who in September 2016 launched a campaign with the South London Press called 'Change is Possible'. The broad objectives of this ongoing campaign are to raise awareness of mental health issues, provide a platform for practitioners, campaigners and members of the public to share their perspectives and stories, and "draw attention to services we offer locally that support people experiencing mental distress," says Ed Francis, Head of Development. "We have been delighted with the engagement that Change is Possible has generated thus far- to date we have raised over £5,000 in donations, and have been inundated with letters, calls and emails from people supporting the campaign and asking how they can get involved. We are also very proud to have received the endorsement of a number of high-profile local politicians including Chuka Umunna MP and Heidi Alexander MP."
'I left feeling much more relaxed and stable'
Mosaic Clubhouse had an excellent year as hosts of the Living Well Partnership, running the monthly Living Well Network Open Mornings and seeing the official launch of the Evening Sanctuary and its expansion to five nights a week.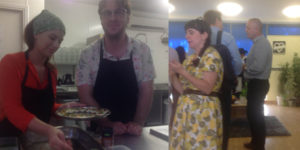 This is how one person in crisis described her visit
"I noticed a difference as soon as I came here, even on the first occasion. I left feeling much, much more relaxed and stable. Here, I can take space if I need it. There is a listening ear if I need to talk. Everybody has got an approachable manner here and the combination of all these things together has been beneficial. Also, there is a big focus on a non-judgmental way, I feel I can just be myself."
An existing Sanctuary Services User wrote the following in October, after she was able to face visiting her family, for the first time in 20 years:
"For years I have felt condemned and abandoned by those previously close to me, as part of the Indian community, this has left me in despair. I battled with, and continue to battle with, isolation, depression and my psychological well-being overall. However, I need to express my sincere gratitude to Mosaic Clubhouse and in particular Sumaira at The Sanctuary Service. My sincere thank-you"
The work to help prevent crisis continued to take a collaborative approach, backed up with the ongoing commitment from out of hours peer support project Solidarity in a Crisis, SLaM's 24 hour support line and the launch of a new Place of Safety for those being held on a 136 under the Mental Health Act.
Mosaic was highlighted in a People Management blog for its partnership work with Public Health England, which has offered four part-time time transitional employment placements (TEPs) to people with mental health issues. "The TEP positive action programme provides work opportunities through a more accessible route than the usual recruitment procedures. For those involved, it may be the first time they have been in employment, or signal a return to work after a long break. With a member of the Mosaic team on hand to train the employee on-the-job – and cover for them if they are unable to work – during the six to nine-month placements members gain self-confidence, new skills and higher self-esteem."
Click here to read the People management blog.
Other partnerships with the Living Well Network Hub and Morley College have brought "life changing opportunities", said Mosaic's CEO Maresa Ness. The monthly Living Well Network Open Mornings continue to bring together the gamut of services, organisations and people dedicated to helping people to build resilience. See film link below.
While there is a strong focus on the emerging Alliance Contract for the major Collaborative players, it is important to remember all those peer supporters, service users and carers who are working in different ways to bring change. For example Project Dare! which expanded to Croydon in 2016 and Recovery In Action, the work of peer supporter stalwart Garry Ellison. Read more about Project Dare here.
"We're hoping to do more work in 2017, which could include working much more collaboratively with the Lambeth Living Well Network, the Hub and SLaM, " says Garry. "The pilot ended in November, although we are still supporting four people with two mentors while there is some remaining funds and I am awaiting a decision on further funding. Us at Recovery In Action are Still All Good In The Hood!"
You can read Garry's testimony to survival in the spirit of the urban fox in the first Peer Power magazine,another source of stories that was launched in 2016, see below.
We were sorry to say goodbye to Jessica Agudelo, Projects Development Manager at the end of 2016 after five years with Certitude. Her role included developing Solidarity in a Crisis, Community Connecting and the Connect & Do website; the Peer Support Network Lambeth and Somali Engagement.
Jessica said she was excited about her new post at MHFA England but was also "filled with sadness to be leaving colleagues and teams that have been so supportive through my career and personal milestones. Over the years, I have had the pleasure to work with many partners and colleagues across various boroughs and networks and will certainly take away wonderful memories and learning from the passion and commitment that you all give to improve the lives of people with lived experience of mental health needs."
We were also sorry to say goodbye to Sarah Corlett, retiring as Interim Director of Public Health, Lambeth who said: "It's been a privilege to work with a whole range of people who are fired up to change outcomes for Lambeth people with mental health problems. The Collaborative really is doing something amazing… my resolution is to work out how to continue to use my public health experience in whatever way I can for Lambeth people and to try my best as a citizen rather than an employee to ensure the new Lambeth Public Health team continues to carry a torch for mental health and wellbeing."
Picture collage: Collaborative breakfast at Loughborough Farm, Place of Safety launch, Bernadette finds a place to call home – see recovery stories, 3rd Sector Care Awards.
Click here to read the blog published by the British Medical Journal
Click here for FST Owen update
Click here for Young Carers report
Click here for film link to the Living Well Network Hub
Click here for the first Peer Power newsletter
Karen Hooper